TUNE IN 6am – 6pm local time, Saturday, September 30 on radio stations across Canada
In recognition of National Day for Truth and Reconciliation, the Gord Downie & Chanie Wenjack Fund (DWF) is proud to partner once again with major media outlets and radio stations throughout Canada for A DAY TO LISTEN 2023.
This year's theme is Mino Bimaadiziwin: Honouring Indigenous Identity. Mino Bimaadiziwin means "the good life" in Anishinabemowin.
Hosted by WILLIAM PRINCE (6am to 10am), SHOSHONA KISH (10am to 2pm) and AYSANABEE (2pm to 6pm), this year we have 13 special guests who will speak about their Indigenous identity through conversations about representation, the fusion of traditional and contemporary music, land protection, the impacts of climate change, and lots more. Special guests include: ALAN GREYEYES, BUFFY SAINTE-MARIE, ILONA VERLEY AND JORDIN TOOTOO, and more. Host bios and a full list of interviewees can be found at adaytolisten.ca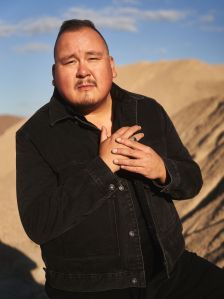 WILLIAM PRINCE
(Photo Credit Danny Shumov)
Guided by a practical yet profound gratitude, William Prince's songs convey the power of wonder and humility. A masterclass in skillful simplicity, Prince's songwriting is grounded in a balance between the personal and the universal, his own moments of self-discovery and the larger questions we face together. Prince offers what's true for himself in whatever way it is helpful. Grace is not a final state but a process.
Over four albums, with his newest Stand in the Joy just released, Prince has created a body of work that traces a remarkable journey. From the giant first step taken with his award-winning debut, Earthly Days, which introduced Prince to the world, through releasing two full albums in 2020 – Reliever and Gospel First Nation – in the midst of chaos and confusion, William Prince's discography finds its steadying, timeless appeal in his rich voice and assured restraint.
Prince has also built a collection of memorable collaborations with many of Canada's most esteemed artists, including Buffy Sainte-Marie, The Tragically Hip and Serena Ryder along the way. Prince's career trajectory is marked by accolades and milestones: an opening slot for Neil Young, a JUNO Award, a Tiny Desk and a return to the studio with Grammy winning producer Dave Cobb. With meaningful, impactful appearances on national broadcasts honouring icons and amplifying crucial conversations alike, Prince has taken up his deserved place on the national stage.
In concert, where his musical gifts and worldview converge in and between songs, Prince often remarks on the distance his songs have taken him. Be it his breakout BBC-approved "Breathless," hometown favourite "7," or soul searching "Lighthouse," heard round the world closing Angelina Jolie's Those Who Wish Me Dead, he's traveled the road from Peguis First Nation to playing sold out shows across continents. As he readies for his next album, Prince finds himself exactly where he needs to be.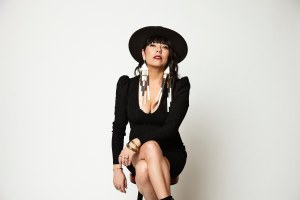 SHOSHONA KISH
(Photo credit Jen Squires)
ShoShona Kish is an Anishinaabekwe community organizer, producer, activist, songwriter and two-time JUNO award-winning touring artist. ShoShona was awarded the 'Spirit of Folk Award' at the International Folk Awards in Kansas City and was recognized by the Berlin based WOMEX organization for her work internationally with the prestigious 'Professional Excellence Award', "for her role in the ongoing revolution of upheaving Indigenous communities and their culture – using the medium of music as an agent of change, to awaken our humanity and help us connect".

ShoShona leads the multi-award-winning band Digging Roots, with her husband, Raven Kanatakta. Their music breaches categorization, seamlessly blending global and traditional Indigenous sounds with roots, blues and soul. They have brought their unique musical marriage of unvarnished truth and unconditional love to venues and festivals around the world.
Like her music, ShoShona defies colonial definitions, constantly subverting any attempts to put her in a box. She is guided by both curiosity and purpose, openly exploring topical, inspirational and often uncomfortable issues, treating music as a call to action.
ShoShona is a member of the Music Canada Advisory Council as well as the founder of the International Indigenous Music Summit and the music label Ishkōdé Records, alongside her business partner and fellow musician, Amanda Rheaume.
She has been an on-air contributor to CBC Radio's national arts and culture magazine 'q' and was the host of the 2018 Maple Blues Awards and the National Arts Centre's celebration of Indigenous women in music Anishinaabekwe. As an artist and curator, she has collaborated on a wide range of projects at home and abroad with the likes of Canada's National Art Centre, Massey Hall, the Women of the World Festival and the Sydney Opera House.
Digging Roots' fourth studio album, "Zhawenim" (meaning unconditional love in Anishinabemowiin) was released on June 24, 2022 and has since garnered a JUNO award in March 2023 for "Contemporary Indigenous Group of the Year", 3 Canadian Folk Music Award nominations, 4 Summer Solstice Indigenous Music Award nominations, and 2 Jim Beam® INDIEs nominations.
Ishkōdé Records, founded in 2021, was the recipient for CIMA's Make It Music 2023 "Stronger Award" that "celebrates anyone in the independent music industry, whose passionate and innovative approach has redefined best practices over the years. These true leaders have set the tone for vibrant and sustainable models across any area of the independent music industry in Canada – they are the builders, founders, and visionaries whose work in the trenches paves the way for businesses and creatives". The label has been nominated for "Independent Label of the Year" for the Jim Beam® INDIEs. ShoShona was also nominated for the first-ever Women In Music Canada Honours in 2023 for her work with Ishkōdé Records and the Indigenous Music Alliance.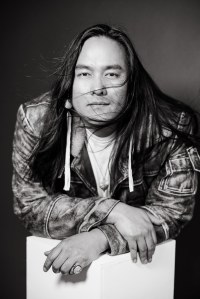 AYSANABEE
Photo Credit Kaela Leone)
Short listed for the 2023 Polaris Prize, winner of three 2023 Summer Solstice Indigenous Music Awards for Artistic Video, Pop/Alternative/Rock Album of the Year, and Rising Star, winner of the 2023 Jim Beam Indie Award for Indigenous Artist of the Year, and winner of a 2023 Canadian Live Music Award for New Touring Artist of the Year, Aysanabee (he/him) is a multi-instrumentalist, producer and singer songwriter currently based in Toronto. He is Oji-Cree, Sucker Clan of the Sandy Lake First Nation, a remote fly-in community in the far reaches of Northwestern Ontario.
Among his many accomplishments, Aysanabee was also nominated for a 2023 JUNO Award for Contemporary Indigenous Group or Artist of the Year, and became the first Indigenous artist to hit Number 1 on Mediabase Canada's Alternative Rock chart (March 2023).
Aysanabee began creating music under his mother's maiden name during the pandemic when the stillness allowed him to slow down and create music that, he says, more accurately represents himself as an artist. With a swirling mix of indie, soul, and electronic sounds, mournful saxophone, and pulse-quickening fingerpicking, Aysanabee's music is both hypnotic and melodious, and has been compared to Bon Iver, Matt Corby, Don Ross, Kim Churchill, Kings of Leon, and Sam Smith among others.
His debut album, Watin (Nov 2022), named after his grandfather, includes 10 tracks and nine interludes featuring the voice of his grandfather that combines  music and journalism with artistry and expression. "Watin actually started out as a series of conversations between myself and my grandfather," says Aysanabee. "We spent the first year of the pandemic talking about things we've never spoke about, his life on the trapline on Sandy Lake First Nation, falling in love, his life in residential school and then leaving everything behind…we never spoke of it until now. Even though we were over 1,000 kilometres apart, it was probably the closest we've ever been."
In what became a whirlwind year for Aysanabee, he released his first single, We Were Here in July of 2022. This single charted on the Indigenous Music Countdown and was featured on an episode of Station 19. This single was also performed live at the 2023 JUNO Awards, further solidifying Aysanabee as a major player in Canadian music. The year continued with the release of Nomads (August 2022) which charted on Billboard Canada, became #1 on CBC Music and #1 on the Alternative Radio Chart (March 2023), and finally, Ego Death (October 2022), which led up to the release of his full album, Watin, in November. With the success of his debut releases, Aysanabee has made a name for himself as a unique and talented artist, proving that he is here to stay and will continue to be a major force in the Canadian music scene.
Aysanabee's much anticipated new single, Somebody Else, releasing June 2023 in support of a full calendar of tour and festival dates for the in-demand artist. Aysanabee describes the song as, "About the changing feeling between two lovers, about two people holding onto the memory of something that no longer exists. This song is for people who love hard, until the bitter end."